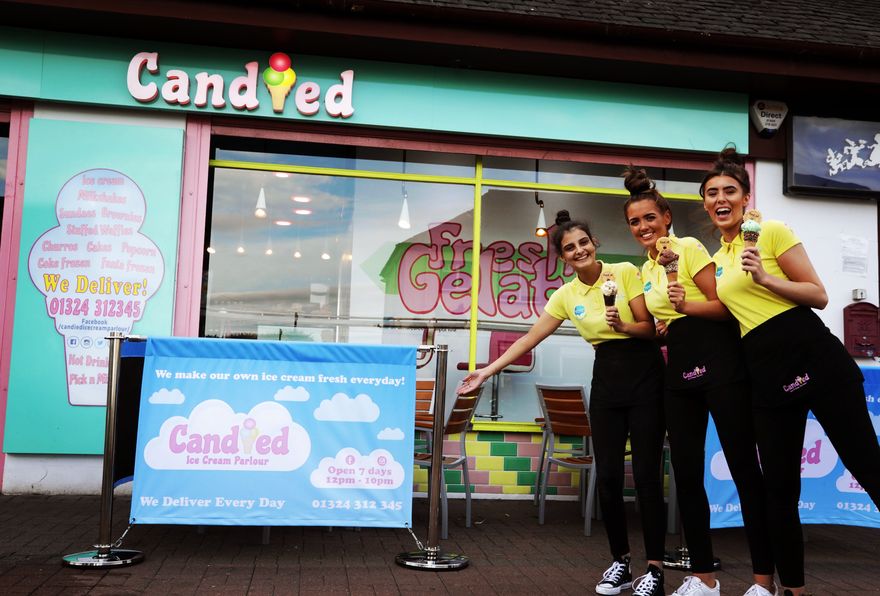 About Candied Ice Cream Parlour
We are located in the heart of Grangemouth. Creators of our own Ice Cream and Sorbets we cater for all. With a wide range of hot and cold desserts at the touch of a button.
Ice Cream
Each morning we prepare our Ice Cream fresh by using special ingredients to make the smoothest possible. With a choice of 20 flavours daily we will not dissapoint. We use local produce delivered to us daily.
Cold Desserts
From Sundaes to Waffle Baskets our cold desserts can be finished with a wide variety of Pick 'n Mix, Toppings or whipped cream to your taste.
Hot Desserts
We offer the best Cookie Dough in town. Freshly baked in-store with your choice of Ice Cream we recommend you try them.
Pick 'n Mix
We have 40 different Pick 'n Mix sweets to try at once, whether it is to top a dessert, or just on its own they do not disappoint.
Delivery
We aim to have your delivery at your door within 45 minutes of accepting the order.